Master Bathroom Remodel Las Vegas
The average cost of a master bathroom remodel Las Vegas is $10,000 to $18,000. For a luxury bathroom, the cost can go as high as $50,000. The average homeowner does not want to shell out that amount of money for one relatively small room inside another room. We want to highlight the importance of proper planning for a costly project.
Treat the outcome or this remodeling project as an investment. Unless you have more money to spare, any kind of setback puts you at a disadvantage. The worst-case scenario would be that you have to put up with construction mistakes for the next several years while you recuperate from the expenses.
We recommend working with experienced professionals who have been doing this job for years. Our experts will help you find affordable high-quality materials and will guarantee the mitigation of risks.
Envision the Result
Prepare or plans before choosing materials, fixtures, and other things for your master bath remodel. Assuming you already browsed through a variety of themes and designs, your next plan should involve the following: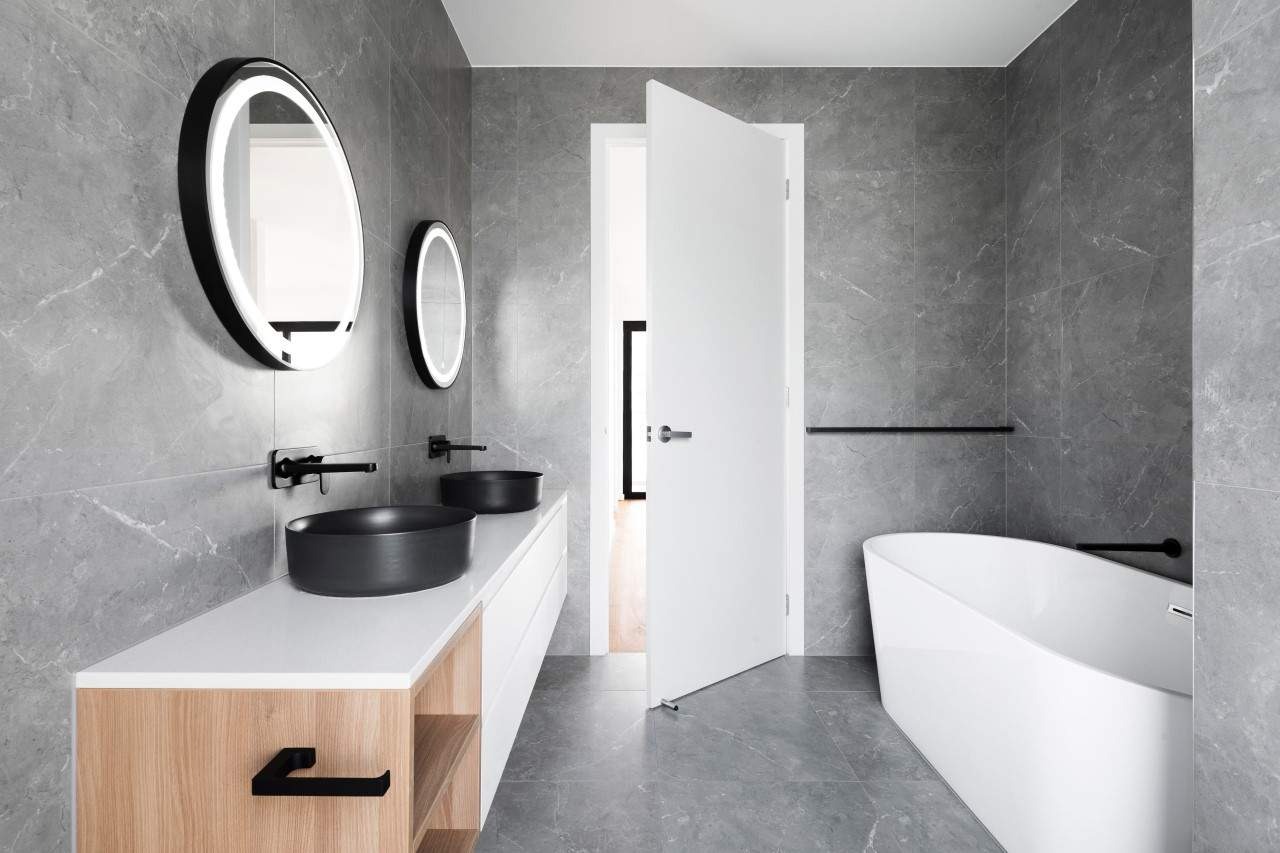 Follow standard guidelines for your bathroom's layout. The layout carries the rest of the plan. It shows where the fixtures can move as far as the current plumbing and drainage lines allow. Aside from that, it also lets you see how much space you can work on and how much clearance you want to leave.

Pick a couple of your favorite master bathroom styles. Although the master bath is a different room, it is a part of the main bedroom. Naturally, it should match the style of your master bedroom, as well. However, there are many ways to incorporate another style. It is your home after all.

Select fixtures and bathroom accessories based on a unified theme. If possible, include the appliances, as well. We suggest choosing about 3-4 sets of items that work with the style you want to achieve.

Be creative and incorporate your own master bath remodel ideas into the design. More homeowners use energy-efficient lights and water-saving devices that provide a bigger return of investment in the long run.

Get into the details. If there is any bathroom around the house that serves as a haven for relaxation and retreat, it would unarguably be the master bathroom. So, make a list of extra details you want to find in your master bathroom when you have a long day at work and just want to spend time for yourself.

Invest in cost-effective bathroom fixtures. These devices help you save in the long run. Upgrades in the plumbing system and electrical wiring might be necessary for this operation.

Set a budget range. It is unlikely that the project will have challenges and cost you more money. Even more so when you are working with master bathroom remodel Las Vegas professionals like us. However, you have to be prepared for any sudden expenses to avoid delays.
Average Cost to Remodel a Master Bath
Master baths are likely full bathrooms that can fit a standard-sized bathtub, shower, toilet, and more space for a vanity and storage. The average size of a master bath is 115 to 210 square feet. You can expect the master bathroom remodel cost to be high for these large spaces.
For master baths that are around 115 to 160 square feet, repainting, new lights and fixtures, and other minor changes can cost up to $1,000 to $3,500. This type of remodeling will not be able to afford an overhaul of the whole bathroom. In case you want to upgrade and replace everything in this bathroom size, the project can cost you around $5,000 to $15,000.
Larger master bathrooms as big as 160 to 210 feet can cost you around $12,000. A luxury master bathroom remodel cost can go as high as $58,000. With this amount of investment, you can expect extravagance, elegance, and the highest quality materials. Needless to say, costly projects like these should be entrusted to professionals.
What To Remember
Planning does not only involve sketching the floor layout. Aside from that, time, key materials, labor costs, and risk-management have to be considered equally. Be an involved homeowner. Check the quality of materials and if possible, inspect the condition of every finished project milestone. This ensures that mistakes are repaired early and to avoid further expenses.
To gather durable and beautiful materials that will make up the furniture, walls, and flooring, some customization might need to take place. The process starts with a consultation, followed by evaluation, accounting, and execution.
A lot more happens during the whole process, that is why recommend that you consult with specialists. We have worked with many master bathroom remodel Las Vegas projects successfully. Our experts are several of the best in the industry and we have worked with many homeowners in the area. We will cover all aspects of the project during the consultation.
For questions, send us an email or call our hotline.