Bathroom Layout And Design Las Vegas
A good floor plan makes all the difference regardless of your bathroom space. If you have problems moving around your bathroom even without too many fixtures, you might need to redesign your bathroom layout Las Vegas.
This guideline is not only for homeowners who have issues with their bathrooms. You can have a great bathroom and still wish to apply your unique bathroom layout ideas. Do not worry if you have no layout in mind yet because there are plenty of readymade plans we can provide you according to the dimensions of your bathroom.
General rules for bathroom layouts
A small bathroom layout can fit in a standard full-size bathroom which is approximately 36 to 40 square feet. You can place four fixtures inside mainly one sink, a toilet, a bathtub shower combination, and a standard-sized cabinet. This layout ensures you can move around with both arms raised on your sides without hitting any fixture or wall.
For bathrooms that are 36 square feet, bulky cabinets are usually left out. We recommend making use of the space under the sink for storage. Leave a 20-inch clearance from the centerline of a sink. You may also opt for a corner cabinet, whose main purpose is to make use of the corner spot without taking much space from the rest of the room. Other considerations include lighting and ventilation.
Determine the number of usual users of the bathroom. If there are no other bathrooms around the house, that affects the plan, too. Half bathrooms with only one sink and one toilet are usually found in common spaces and used by guests. However, homeowners can decide to install a sliding door or an outward swinging door to maximize the cramped space.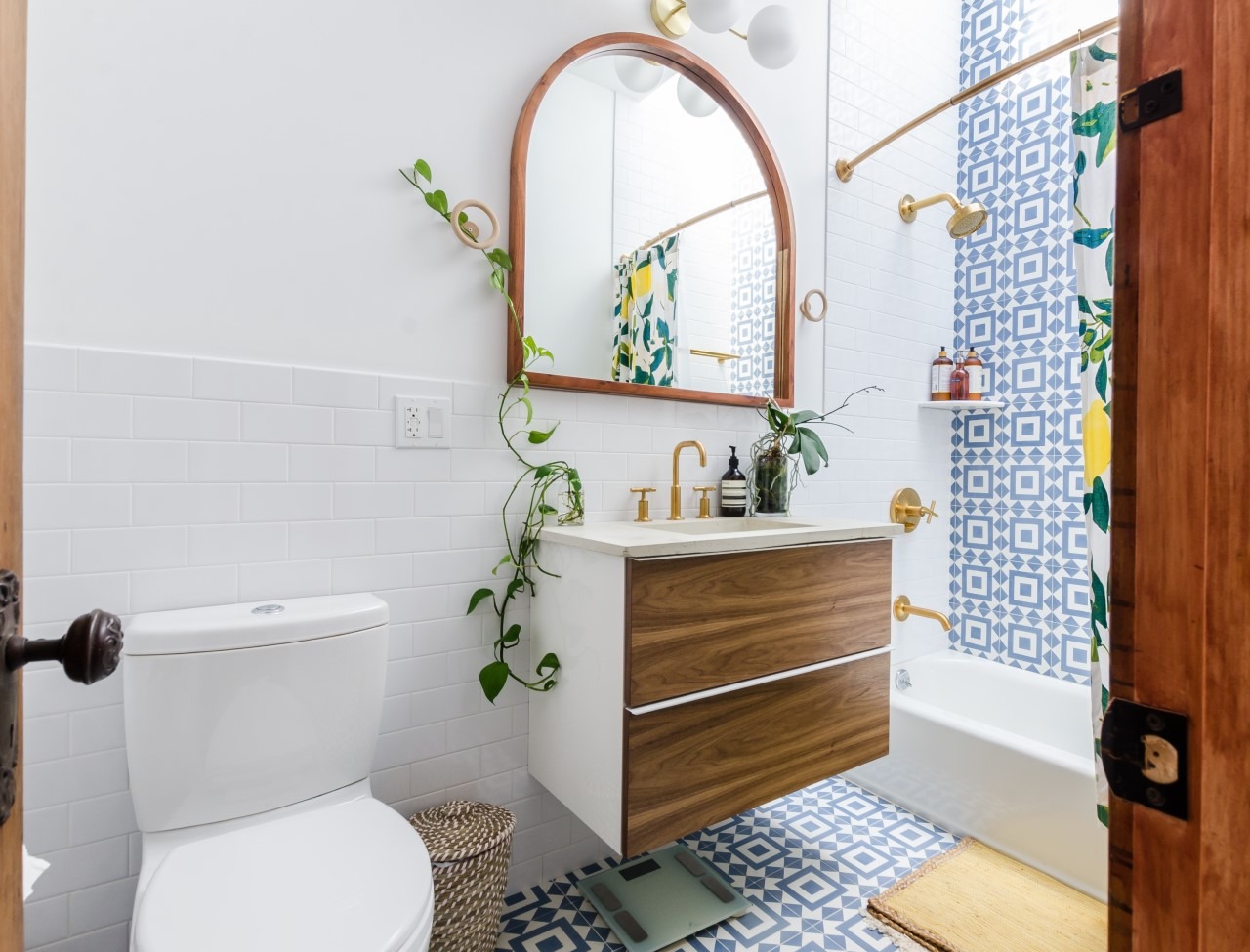 General Rules For Bathroom Layouts
When you work with an empty bathroom layout, you have the freedom to design it any way you like as long as it is functional. It is harder to overhaul a bathroom when the plumbing, ventilation, and other fixed lines need to be moved. Aside from the amount of work, you will need a higher budget to change everything. Our bathroom layout Las Vegas services include evaluation of your current floor plan to see if we can work around the existing lines and plumbing and still achieve your dream bathroom.
The toilet is the most used fixture in any bathroom. The ideal small bathroom layout would still be able to conceal most of the toilet behind the door upon entry or behind the vanity or sink. For larger bathrooms, it is possible to create a separate enclosure for the toilet. The toilet is rarely moved from its original place because of the drain and the pipes underneath it. Only homeowners facing a lot of issues for their current toilet placement commit to this operation.
The vanity contains the sink, cabinets, and countertop. Some vanities have double sinks and a mirror or two above it. The second sink is usually for children, which means vanities of these sizes belong in common bathrooms that most family members or guests can use. However, more modern homes are choosing simpler bathroom layouts focusing more on the space.
An enclosed shower can take up more space and look bulky. Shower walls are becoming more popular these days. They are on the farthest side of the bathroom and the clear glass panels from ceiling to floor create the illusion of more space and light. Since the shower has more space in between the walls, homeowners can add more features such as seats and a different variation of shower tiles.
Your bathtub placement can depend on the type of bathtub you want to have in your bathroom. The types of bathtubs are alcove, drop-in, corner, and freestanding. Since you are collecting bathroom layout ideas, you have the freedom to choose which one best suits your plan. Take into account the size of the tub and the placement. If you want to transfer the bathtub, you will need an expert to move the drainage and other pipes.
The tub shower is the more cost-effective and space-saving fixture you can add instead of the separate bathtub and shower. It is the ideal option for smaller bathrooms in the home. Another important consideration is the accessibility of the tub shower for elderly members of the family.
The vents should be able to exhaust air properly especially if the bathroom has no windows. Homeowners should consider other small features and details such as knobs, rods, bars, faucets, and showerheads that can help tie the whole bathroom together.
Safety And Risk-reduction
Aside from the floor layout, remove any protruding bars that can obstruct mobility. Sometimes, homeowners forget to consider other aspects when planning the layout themselves. As professionals in bathroom layout Las Vegas, we can help ensure everything goes smoothly from planning to execution. Call us for more inquiries. We will get in touch with you.